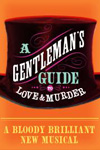 A Gentleman's Guide to Love and Murder
at Walter Kerr Theatre
Price from £ 113
A Gentleman's Guide To Love & Murder the Musical is a real musical comedy, so if you're looking for a musical with the laurels of Downtown Abbey and the morals of a mongoose, look no further! A Gentleman's Guide To Love & Murder—the new comedy of manners (well, bad manners) that has won unanimous raves and several Best Musical awards.

Highlights:
- Ensure your tickets to this hysterical musical
- Get the best available seats within your chosen category
- Enjoy the award-winning musical, incl. Best Musical

What's A Gentleman's Guide To Love & Murder about?
Monty Navarro has just received some really great news! He's a long-lost member of a noble family and could become the next Earl of Highhurst. There are only eight minor issues, namely the other relatives who precede him in line for the title.

So Monty does what any ambitious, highborn gentleman would do: he sets out to eliminate them one by one, all while juggling his mistress (she's after more than just love), his fiancée (she's his cousin, but who's keeping track?), plus the constant threat of landing behind bars! But it will all be worth it if he can slay his way into Highhurst Castle… and be done in time for tea.

Don't miss A Gentleman's Guide To Love & Murder the Musical, that Charles Isherwood of The New York Times calls "among the most inspired and entertaining new musicals I've seen in years!"

Did you know this about A Gentleman's Guide To Love & Murder?
A Gentleman's Guide To Love & Murder has actually won four awards for Best Musical! The musical has won a Tony Award, a Drama Desk Award, an Outer Critics Circle Award and a Drama Leauge Award for Best Musical - and many other prestigious awards.

How do I get my tickets?
Shortly after your booking is complete, you will receive an e-ticket by email. Please print out your ticket and bring it with you to the theater.

Who is the musical suitable for?
A Gentleman's Guide To Love & Murder is recommended from age 10 and up. Children under 4 are not permitted in the theater.

How long is the musical?
A Gentleman's Guide To Love & Murder lasts 2 hours and 20 minutes, including intermission.

Important information:
- When booking tickets for a musical in New York you will always be granted best seats available at the time of your booking. We have no influence on the exact seat and row number, as it is solely the theater that can appoint the seats. Within 36 hours after you have received your first booking confirmation, you'll receive an additional confirmation with your exact seats. These cannot be changed or altered as they were the best available seats at the time of your booking.
Fantastic
5.0
1 customer reviews
Funniest Musical.
This is the funniest musical I have seen in years. Everything about it was good from acting to production. It is almost worth going all the way to New York just to see it. It received a standing ovation - quite rightly so.
Fantastic
5.0
1 customer reviews
Venue Information
Show Information
Booking from
2013-11-17
Duration:
2 hours, 20 minutes
Directions

Take the subway to 49th St. station

View map