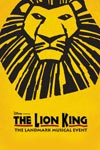 Disney's The Lion King - Broadway
at Minskoff Theatre
Price from £ 136
Experience Disney's popular and award-winning family movie The Lion King as a musical on Broadway. With music by Elton John, The Lion King is one of the most stunning and moving musicals ever made. It's a sure hit for the entire family!
Highlights:
- Ensure your tickets to this wildly popular musical
- Get the best available seats within your chosen category
- Enjoy the music by Elton John
- Experience an award-winning musical, incl. Best Musical
- Watch a musical for the whole family

What is the Lion King about?
When the young lion prince Simba is born, his evil uncle Scar is pushed back in the line for the throne. Scar plans to kill both Simba and his father, King Mufasa, so he can take over the throne and become king. Simba survives, but thinks he's the cause of his father's death and decides to flee the kingdom.
Simba finds himself starting a new life accompanied by two very improbable friends Timon and Pumba. But the past will come back to haunt him and he will find himself having to face a fearsome enemy in order to fulfill his destiny and take his rightful place as the mighty king!
In the Lion King, the savannah becomes alive on Broadway in New York! The songs in the Lion King include 'Circle of Life', 'Hakuna Matata' and 'Can You Fell the Love Tonight'.

As The New York Times says, "There is simply nothing else like it."

Did you know this about the Lion King?
The musical has world premiere in London in October 1999, and since then it has been shown in many large cities around the world. The musical has won no less than 6 Tony Awards on Broadway in New York, received an Evening Standard distinction as the theater event of the year and been nominated for no less than 8 Olivier Awards.
How do I get my tickets?
Shortly after your booking is complete, you will receive an e-ticket by email. Please print out your ticket and bring it with you to the theater.

How long is the musical?
The Lion King is 2 hours and 45 minutes, including intermission.

Who is the musical suitable for?
The Lion King the musical is for all ages, young and adults alike. The musical is especially popular among families. It's recommended for children from age 6. Please be aware that children under 3 years old will not be admitted.

Who's the team behind?
The Lion King the Musical features an amazing score crafted by the Tony Award-winning songwriting team of Elton John and Tim Rice as well as the marvelous work of Tony Award-winning choreographer Garth Fagan. Julie Taymor directs this musical version of Disney's insanely popular movie the Lion King. She actually won a Tony Award for Best Director of a Musical as the first female ever.
Important information:
- Please note: Strobe lighting is used several times during the show.
- When booking tickets for a musical in New York you will always be granted best seats available at the time of your booking. We have no influence on the exact seat and row number, as it is solely the theater that can appoint the seats. Within 36 hours after you have received your first booking confirmation, you'll receive an additional confirmation with your exact seats. These cannot be changed or altered as they were the best available seats at the time of your booking.
Fantastic
5.0
3 customer reviews
Amazing!
Absolutely loved this show, esp the costumes they were fantastic!! I've booked my parents tickets to see it too I think people off all ages would enjoy this one.
Compared to London
This is the second time i have seen this show was looking forward to seeing it on Broadway,a great performance but was not as good as London. I think the staging was different.
Ban all talking and phones!
This was a fantastic show spoilt by the few individuals that for some reason find it impossible to sit and watch a show without chatting all the way through it???/ WHY?...also staff tried very hard to stop idiots who refuse to stop taking pictures and filming the performance..why when they catch them dont they throw them out?..One woman was told 3 times to stop filming every time staff walked away she just continued.
All this is very distracting for people who want to enjoy the show.
Fantastic
5.0
3 customer reviews
Venue Information
Show Information
Evening performances
Tuesday 7:00pm - Wednesday to Saturday 8:00pm
Matinee performances
Wednesday and Saturday 2:00 - Sunday 3:00
Duration:
2hrs 30 minutes
Directions

Take the subway to Times Square - 42nd St. station

View map